When you purchase Droid Transfer you will be sent an activation code. You need to enter this activation code into the demo version of the app the get a full software version.
To activate Droid Transfer on your PC, please download and install the software. Once the app has launched, you should see an 'Activate' button in the top right corner of the program, as shown below: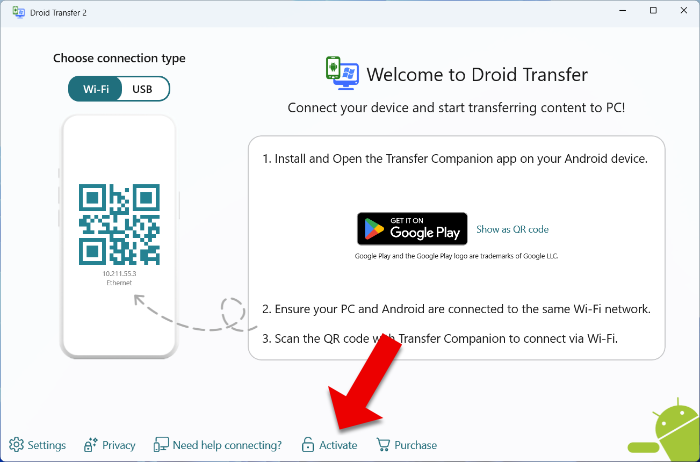 To begin activating Droid Transfer, please select this.
When you click activate, you will be prompted to enter the activation code that you received after purchasing Droid Transfer.
After entering your activation code, please click activate to continue.
Activation codes for Droid Transfer should begin with DTPC, and should be followed by 20 digits.
You will then have to create a password for your activation code. This password is for security and anti-piracy reasons, and will only be needed should you need to re-activate Droid Transfer at a later date or on a different computer. While creating this password, please make sure that it is shorter than 16 characters in length, otherwise, this will cause an activation error. After creating a password, you will also need to enter an email address, this will be used if you forget your password and need it to be sent to you.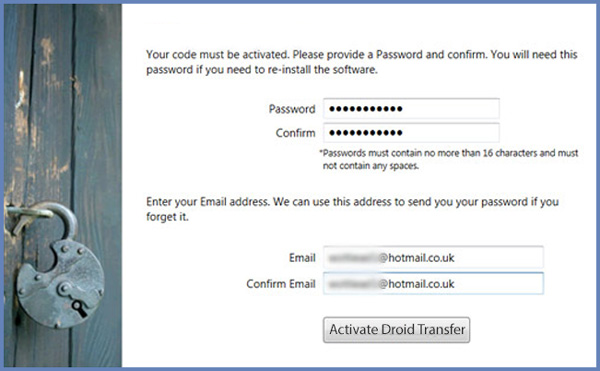 (Please note that you must be connected to the internet in order to activate Droid Transfer!)
After doing this, you will have successfully activated Droid Transfer on your PC!