When you click on the Messages tab in TouchCopy, the software will initiate data communications with your iPhone. If you have a lot of data on your phone, it may take longer than expected to load your messages, or it may seem like the app is stuck on loading your conversations.

While TouchCopy is displaying initiating communications with your device, please check the top of your device for a spinning icon (If you are using an iPhone with the "notch" at the top of the screen, you'll need to swipe down from the top of the screen in order to check for the spinning icon in your Control Centre).
As long as this spinning icon remains, TouchCopy is communicating with the iPhone in order to create a temporary backup, which is needed for for the app to access certain data types like Messages, Contacts, Calendars and Notes. It should usually take no longer than 10 minutes in order to create this temporary backup, however if the icon should disappear, but TouchCopy remains on "initiating data communications" for at least another 5 mins, there could be an error.
To resolve this issue, firstly please check that there is enough space on your computer for TouchCopy to create a temporary iPhone backup. Then, please check that TouchCopy has the correct permissions to create this backup, follow these instructions:
Run TouchCopy in Administrator mode on a PC
If you're using a Windows PC, it may be beneficial to run TouchCopy in administrator mode. To do this,
Right click on the TouchCopy icon either on your desktop or in your programs folder.
Select 'Properties' and then go to the 'Compatibility' tab.
select to 'Run this program as an administrator'. Once done press 'Apply' and then 'OK'.
Please then re-launch TouchCopy and try loading your data again.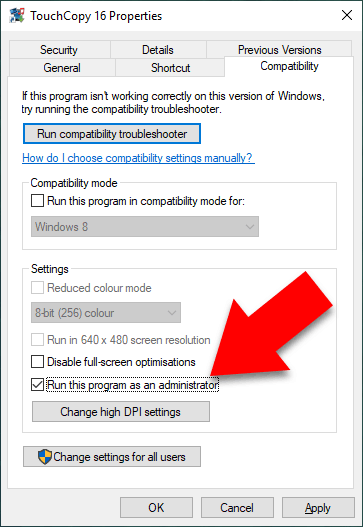 Giving TouchCopy Full Disk Access on a Mac
If you're using a Mac running macOS 10.14 Mojave or newer, please try giving TouchCopy Full Disk Access to ensure it has the correct permissions to read your device's backup:
Open System Preferences > Security & Privacy > click the Privacy tab.
Scroll down to "Full Disk Access", click it > click the lock to make changes > click the "+" button > then find and add TouchCopy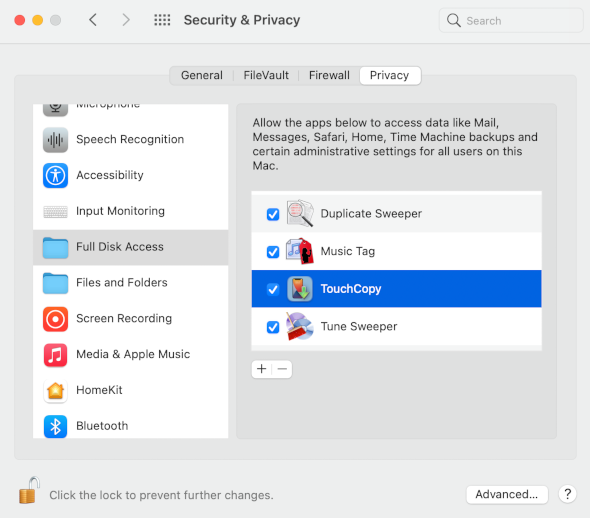 If the issue persists...
If setting permissions did not resolve this issue for you, you may need to create a new iPhone backup manually as detailed here.