No. When copying music from a device, TouchCopy will check your chosen location to ensure that it does not create duplicates of tracks which already exist there.
When you use TouchCopy to copy iPod or iPhone songs which are already in your iTunes library, a duplicate copy will NOT be created. TouchCopy will check to see if a song already exists in your iTunes library before copying it from your iPod, iPhone or iPad.
If you are copying a playlist from your device to iTunes, TouchCopy will copy the music listed in the playlist, if it does not already exist in iTunes. However, if the music listed in the playlist is already available in your iTunes library, TouchCopy will not create duplicates of the tracks, it will simply create a link from the playlist entry to the existing song.
You can use TouchCopy to find out which songs on your device are not also available in your iTunes library. To find this list, click the "Not in iTunes" header in TouchCopy. You can click "Copy to iTunes" from this list, as opposed to copying your entire list of iPod music, to save you time!

If you are copying music to your computer (using "Copy to PC" or "Copy to Mac"), rather than directly to your iTunes library, it works slightly differently.
In this case, TouchCopy will check your destination folder to see if your music already exists there. If you attempt to copy music which already exists, the music will not be duplicated.
On the other hand, if your music exists in FolderA, and you tell TouchCopy to copy your music to FolderB, TouchCopy will copy your music as it has not checked FolderA. In this case, you can have thesame tracks existing in both FolderA and FolderB.
Using iTunes to find duplicates
Occasionally, you may find that you have more than one copy of the same song or album in iTunes. Duplicates can appear for a number of reasons, including manually inputting songs into the library from a PC or merging multiple libraries together. This can leave your library looking messy, and you'll duplicate these tracks more often than you should when shuffle-playing your songs.
If for some reason you have duplicate music in your iTunes library, go to iTunes > File > Show Duplicates. This will allow you to quickly find duplicate tracks. You can then delete these in iTunes by selecting the entries which you would like to delete, right-click, then hit "Delete from library".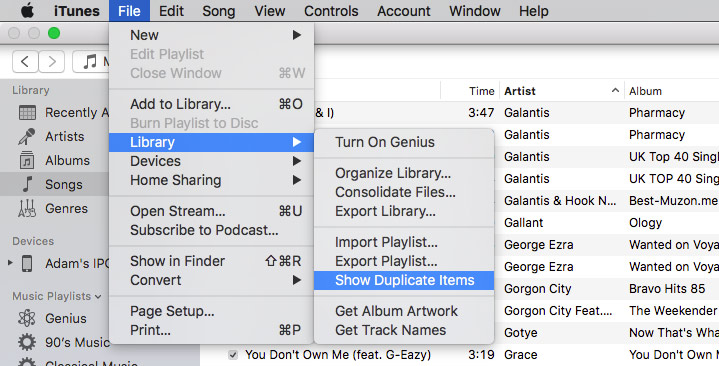 Using Tune Sweeper to delete duplicate music
Deleting duplicate tracks in iTunes is easy if there are only a couple of instances. However, what if you have loads of duplicate entries in your iTunes library? If this is the case, and you want to save yourself lots of time, try Tune Sweeper.
Tune Sweeper will scan your iTunes library, return a list of duplicates and even pick and remove the tracks which you don't want. Tune Sweeper can do this automatically, allowing you to keep either the newest or oldest files, based on your preference. With Tune Sweeper, you can even set search preferences, allowing you to find duplicates by comparing Song Title, Artist, Album and more.
Find out more about Tune Sweeper.