When you purchase TouchCopy, you are purchasing a single-user license. If you purchased a 1-year TouchCopy rental license, this can only be used by on a single computer. A 2-computer lifetime license can be activated on up to 2 of your computers as long as you are the sole user of the software. If multiple users are to use the software, a license must be purchased for each user. Please note that there is no limit to the number of iPods, iPhones and iPads TouchCopy can be used with.
To install TouchCopy onto your second computer, follow these steps...
Retrieve TouchCopy activation code and download your purchased TouchCopy version to the computer you wish to install it on.
Install TouchCopy and run it.
Click on Activate in TouchCopy and enter your purchased activation code.
You'll be prompted to enter the activation password that you used on your first computer. You can request for this password to be emailed to you from within the software. Please note your password is case sensitive.
When you correctly enter your password, you will need to choose a new, not never previously used password, which is less than 16 characters long.
Please be advised that our PC and Mac software are sold separately. As such, their activation codes are not interchangeable. You may be eligible for a discount if you wish to purchase both PC and Mac versions of TouchCopy - just ask one of our friendly advisors for help.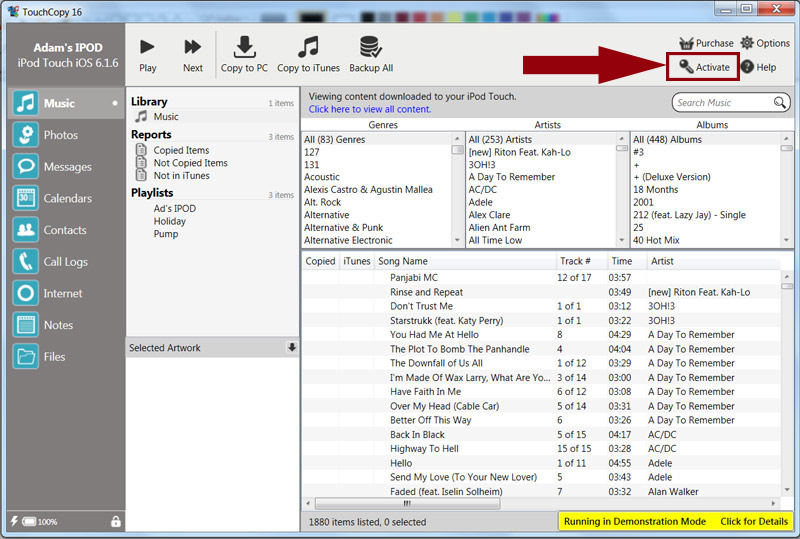 You need to know your activation code and password each time you activate TouchCopy. You can use our automated system to retrieve your activation code, and you can request for the password to be emailed to you automatically from within the program itself.