If you attempt to launch TouchCopy, Droid Transfer or one of our other programs, but it fails to open, follow the steps in this guide to resolve the issue.
1. Check you're using the latest version of the software
Please check you're using the latest version of the software, by going to Options -> Updates from within the app.
If an update is available, we recommend that you first uninstall your current version of the program from your computer...
On the left end of the taskbar, open the Start menu and search for Control Panel.
Under Programs choose "Uninstall a Program" and uninstall the older version of the software from your PC.
Then download and reinstall the program from our website. The latest versions of all our products are available from our support site here https://www.wideanglesoftware.com/support/
2. Update your Microsoft .NET Framework
An app can also fail to launch if Windows is not using the latest version of the .NET framework, or if the .NET Framework got corrupted due to a Windows update or other change to the PC.
Please try downloading and installing the latest version of .NET by clicking on Download .NET 4.8 Runtime from Microsoft at the link below:
https://dotnet.microsoft.com/download/dotnet-framework/net48
If this version is already installed, there will instead be an option to 'Repair' which you can choose to make sure nothing is wrong with your current installation. Please also restart your computer after updating the .NET framework.
3. Run software as Administrator
To ensure the program has the correct permissions to run on your computer, please run as administrator.
To do this, right click on the program's icon either on your desktop or in your programs folder. Click 'Properties' and then go to the 'Compatibility' tab. On here please choose to 'Run this program as an administrator'. Once done press 'Apply' and then 'OK'. Please then attempt to launch the program by double-clicking the icon.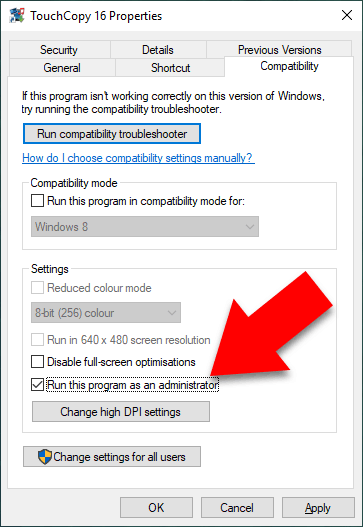 4. Contact our Support Staff
If the issue persists, please
contact our support team
and they will be happy to provide further assistance for you. Be sure to let us know which program and which version of Windows you are using.